How to use lighting to take your campsite and glamping site to the next level
Glamping is becoming increasingly popular, with many people loving the idea of a camping holiday but with a little extra comfort and some modern conveniences.
Camping hasn't faded into the ethers, however. Millions of camping trips continue to be taken every year in the UK and the surge in popularity experienced during the pandemic, when holidays abroad were limited, is holding.
With the increased popularity of camping and glamping holidays within the UK comes, perhaps, the added need or desire to make your campsite or glamping experience stand out above the competition.
One way to make your campsite stand out and improve its aesthetic appeal is to use lighting in creative and pleasing ways, not just for safety and practical reasons.
At Easy Wireless Lighting, we sell a range of different types of lights that can help raise your campsite and the glamping experience you provide to the next level. We'll list each type of light below and how you can include them in the lighting design for your site.
Festoon Lights
Our festoon lights come with either a 52Ah Energy Point rechargeable battery pack or a 26Ah Energy point pack. The key difference between the two being that the 52Ah product provides more power and can run up to 5 strings of festoon lights and the 26Ah pack can run 3 strings of festoon lights. Each string of festoon lights comes with 10 lights at 50cm intervals.
The added benefit of our festoon lights and Energy Point battery packs is that they are rated to IP65, which means they are completely weatherproof and can be used both indoors and outdoors in almost all weather conditions.
How to use festoon lights on your campsite
Besides stringing them along paths and other areas that require some form of task lighting to help guide guests around the site, such as to and from toilet blocks, festoon lights can be incorporated in a few creative ways to improve the look and feel of the site after dark.
Festoon lights can be strung inside larger tents or structures like marques, yurts, dome tents, glamping pods, and teepees to provide a homely or festival atmosphere within the interior. If the tent or structure is semi-opaque, using festoon lights within will give the exterior a gentle glow, offering up an almost ethereal atmosphere when viewed from the outside.
Festoon lights can be woven amongst branches and trunks of trees around your site to create a sense of grandeur, bringing the trees to life and giving off a soft glow around the tree.
Hang festoon lights from external structures like awnings, arches, pergolas, and gazebos, following the shape of the structure. During the darker hours, this can add a romantic or magical feel to the structures on your campsite and make your guests feel even more special – especially if they're enjoying a lovely glamping experience with you.
Create a ceiling of light with multiple strings of festoon lights. If you have two structures opposite one another between which you can connect multiple strings of festoon lights, like two walls, trees, or fences, you can create a beautiful hanging ceiling of light. This can be especially effective over seating areas like an outdoor dining space or communal seating area.
Uplighting
The ColourPoint and ColourPoint Mini are our two powerful LED rechargeable uplighters. The ColourPoint can light up to 5 storey buildings and its little brother, the ColourPoint Mini, can light up to 3 storey buildings. Both are rated IP65 weatherproof, making them ideal for outdoor use such as on camping or glamping sites. They both have a broad colour range available too, which means you can add a splash of any colour to your areas, really bringing it to life.
How to use uplighting on your campsite or glamping site
There are a number of ways you can incorporate uplighting to enhance your campsite, create an incredible atmosphere for your guests, and make their time with you more memorable.
If you have large trees in your outdoor space, you can place a ColourPoint or ColourPoint Mini at the base, set it to any colour you want to create the atmosphere you'd like or to match a colour design on your site, and light up the entire tree. This will be visible for quite some distance, depending on line of sight and obstructions, and can add a real wow factor to your site's surroundings, especially if it is near the entrance or on a long road leading to the campsite.
Bring attention to any architectural features on buildings within your site by placing either a ColourPoint or ColourPoint Mini at their base. With the colour range available, you can light your buildings with almost any colour you wish and the 2,000 lumen output (on the ColourPoint) will really bring attention to anything it's used on.
If you have a large marquee on your grounds for communal activities or as a dining space, you can place ColourPoints or ColourPoint Minis at intervals around or inside the marquee and use either a white light or a colour of your choice to illuminate it and create a stunning effect. If you place enough lamps at the right distance apart, you can even give the entire marquee a colour or white wash, illuminating entire walls – the same can be done with buildings, solid structures, or any vertical surface.
If you have pods, domes, or large teepees or yurts, you can place a ColourPoint or ColourPoint mini either side of the entrance to illuminate it, creating an inviting spectacle for your guests. Since the lights are completely wireless, battery powered, and easily portable, you can set this up ready for an evening arrival of your guests and then take them down or turn them off once they're settled.
Table or feature lighting
Easy Wireless Lighting's TablePoint lamp is an extremely versatile light with both a magnetic base and a patented lamp attachment, allowing you to attach it to any ferrous metal surface or lamp and standard light fixture. It is also rated to IP65, making it weatherproof and suitable for outdoor use. Being completely wireless, there is no need for any cables and you can control it via bluetooth. All of these features combine to make the TablePoint a very flexible light for a variety of applications.
How to use the TablePoint in your glamping setup
If you've got pods, domes, yurts or the like on your site that are fairly isolated and away from a mains power supply, our TablePoint lights are a brilliant solution for providing light internally. A TablePoint light can directly replace a bulb in any light fitting with an edison screw, small edison screw, or bayonet cap fitting using our 3-way adaptor, making it a great substitution for table lamps or ceiling lights.
Table points can be used within lanterns and if the lantern is made from ferrous metal, you can attach it using the magnetic base, allowing you to light the lantern any colour you wish or just give it a soft glow from within.
If you have external dining tables, you can place any decorative lamp on the table and use the TablePoint in place of the bulb, doing away with the need for cables and extension cords to mains power. What's more, you can control the lighting using bluetooth, allowing you to dim the light to create a romantic atmosphere, change the colour, or keep it nice and bright to illuminate the surroundings.
Placing semi-transparent furniture, such as garden seats, plastic cube seats, and hollow, translucent tables around your site or glamping pods will allow you to place a TablePoint inside and light them up different colours, creating a unique experience for your guests.
These are just some of the ideas you could try with just a few of our products. There is a whole world of possibilities out there.
One example of the kind of lighting that can be produced on a glamping site with our products is what we achieved when we collaborated with HoneyDown to kit out and light some of their incredible new glamping pods.
Take this beautiful canopy sheltering an outdoor picnic table. Festoon lights follow the outline of the canopy and give it a gentle and inviting glow when at reduced brightness.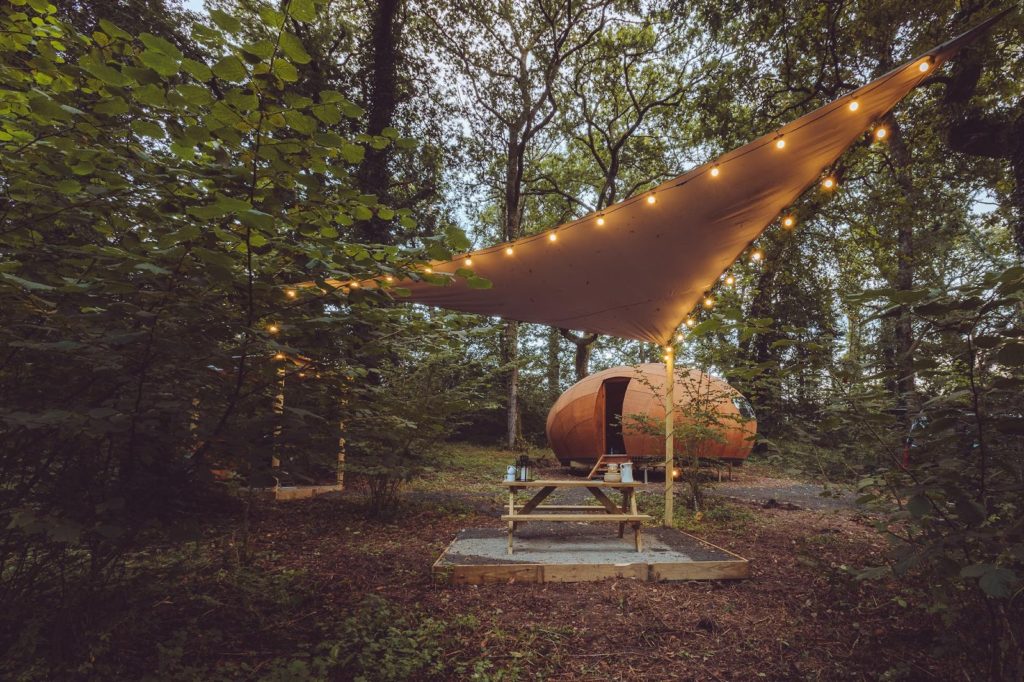 The same festoon light product is used to light this outdoor kitchen, giving off plenty of light to cook, clean, and enjoy the space when set at a brighter setting than the festoon string around the canopy.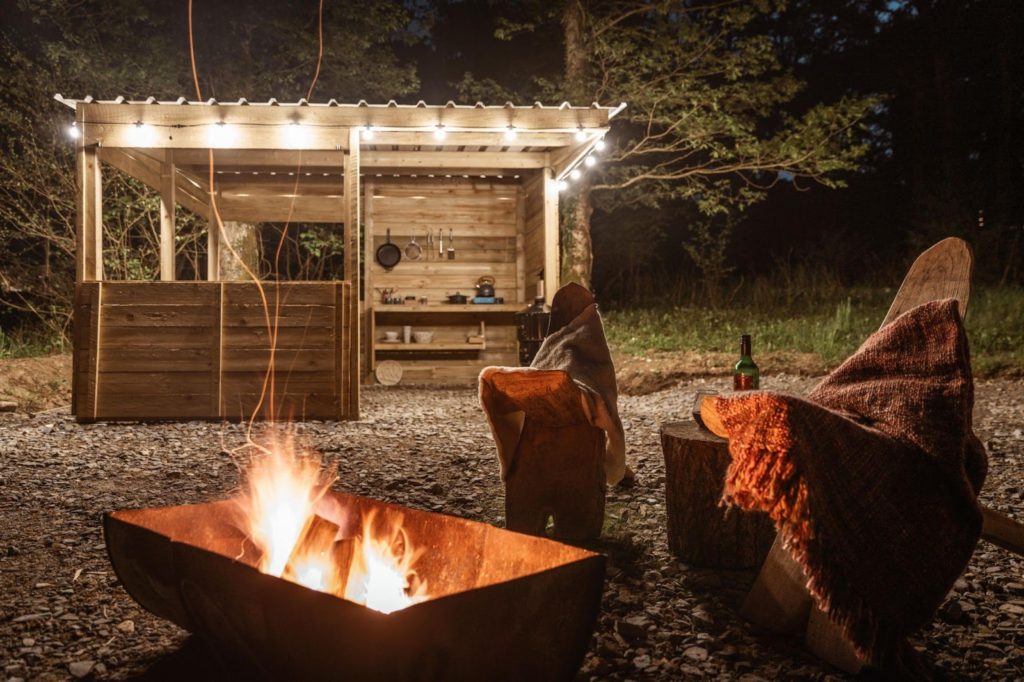 This glamping pod, or Truffle as HoneyDown calls them, is completely powered by our EnergyPoint rechargeable battery system, which allowed HoneyDown to install these pods without any need for a mains power connection to be installed, ensuring they are entirely off-grid.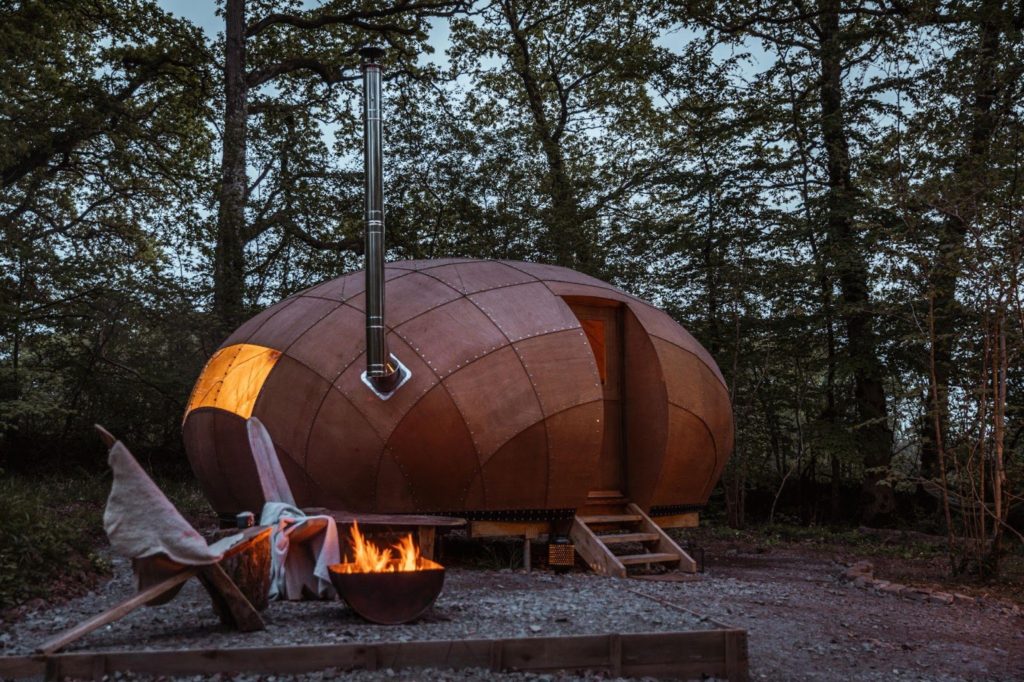 With off-grid power supplied by our EnergyPoint battery system, equipped with solar recharging capability, these glamping pods can run all year round without any need for cables linking to mains power or an expensive mains power installation. This means that you're able to create a unique and remote glamping experience in almost any location away from the main power grid with the simplicity of a lighting setup from Easy Wireless Lighting.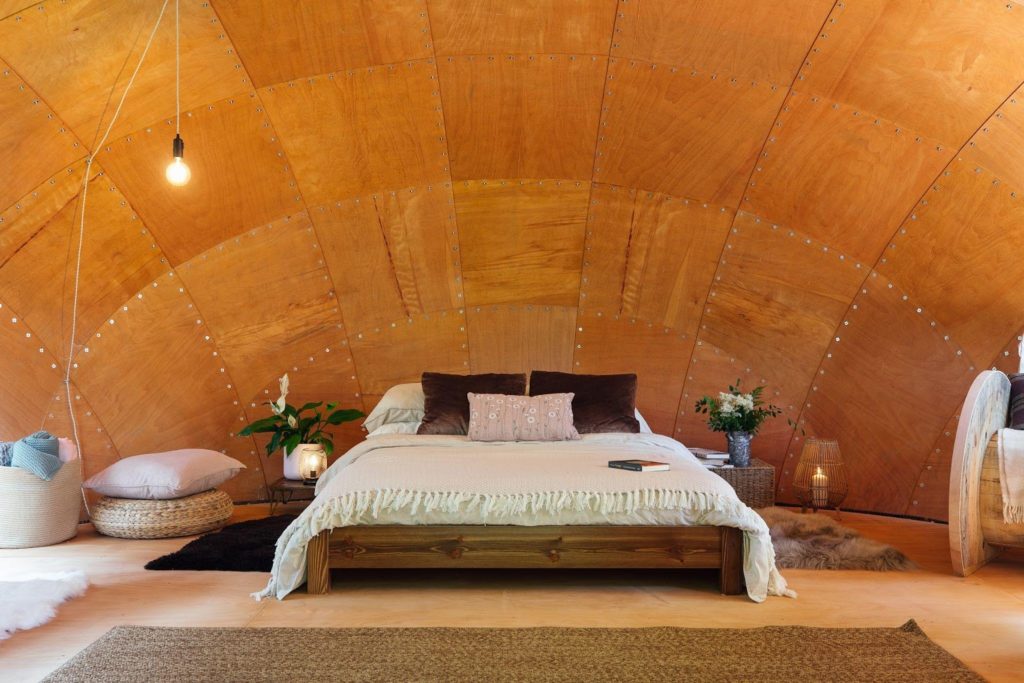 If you'd like to discuss how to create a unique and beautiful off-grid glamping environment like the one below, get in touch.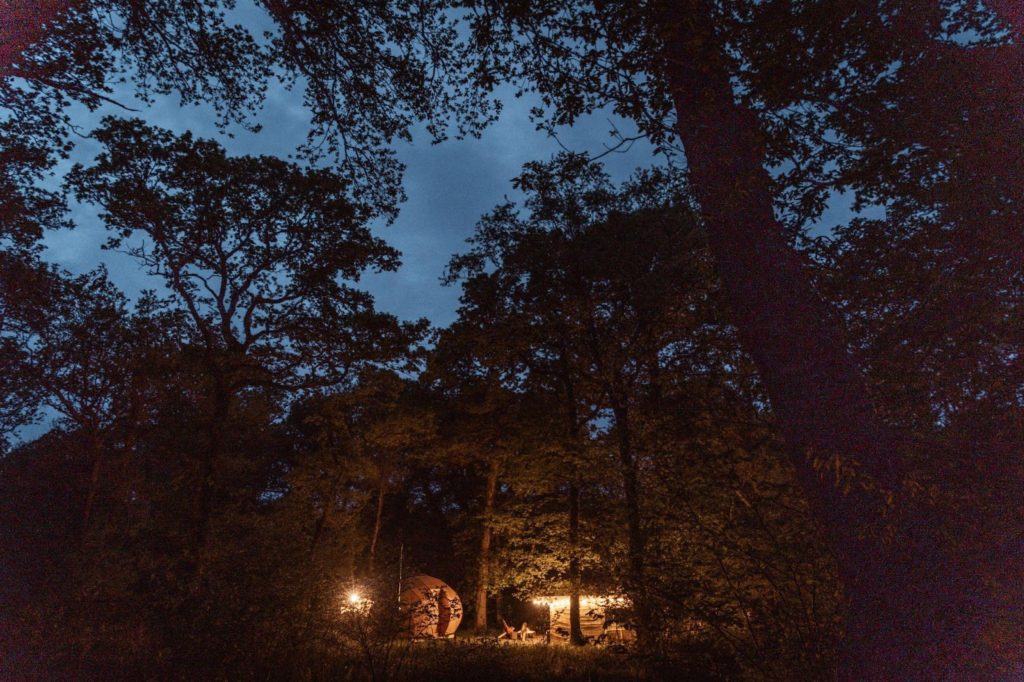 Want to get a head start with making your outdoor space look as beautiful as HoneyDown?
Enter below to be in with the chance to win a 5m festoon lighting string and 13ah EnergyPoint battery pack!
Competition closes 30th April, and the winner will be chosen at random within 14 days of the competition closing.
Good luck!