A well lit and landscaped garden not only makes your outdoor space look beautiful but it also provides you with a serene, relaxing, and sometimes magical ambience during the evening hours when the sun is setting or the night has drawn in.
Garden lighting plays a vital role in enhancing the overall aesthetic appeal and functionality of your outdoor area. By strategically illuminating your garden, you can create a delightful atmosphere and extend the usability of your outdoor space well into the night, increasing the possibilities of use, enjoyment, and entertainment.
When designing your outdoor lighting, along with any possible landscaping, it is important to consider some factors before the garden lighting installation process begins, including various landscaping and lightscaping techniques. It is also worth exploring potential lighting products to consider how they can be used to transform your garden into a magical haven and how to incorporate them into your garden project. Our ColourPoint series, including the ColourPoint and ColourPoint Mini, our Festoon Lighting System, and our TablePoint Lightbulbs are all suitable for outdoor use and can be incorporated into almost any outdoor lighting design or garden lighting project to create incredible atmospheric lighting.
We're also running a competition to win a ColourPoint Mini! So, read on to find out more and how to enter.
Landscaping and Lighting
Before purchasing specific products, it's essential to consider how your garden's existing landscaping elements can be complemented by lighting.
Here are some key factors to keep in mind:
1. Focal Points
Identify any focal points in your garden that you'd like to highlight such as fountains, unique plants, trees, statues, or structures. You can use a ColourPoint or ColourPoint Mini to provide uplighting for structures like buildings, trees, and other large natural or architectural features. Festoon lights can be strung around roofed structures or between tree branches or buildings, and a well-placed TablePoint can bring attention to single features like a garden table, semi-transparent seating, or to provide a focal point. The ColourPoint series and TablePoint lights can change colour, too – providing extra options for your atmospheric lighting.
2. Pathways and Walkways
Illuminating pathways, walkways, and steps can be great for both safety and aesthetics. If steps have a ferrous metal bannister or railing, TablePoint bulbs can be attached using the magnetic base at strategic intervals. You can also string Festoon lights along pathways or place ColourPoint lights to uplight any features along the way. Using lighting to accentuate paths and walkways can help guide visitors through your garden while adding a touch of elegance to the landscape.
3. Plants and Trees
Uplighting techniques can showcase the beauty of trees and large plants. Place some ColourPoints or ColourPoint Minis at the base of trees to create a dramatic effect and cast intriguing shadows. Change the colour settings and add a splash of colour for an even greater effect. You can also weave Festoon lights in and out of branches to create a visually stunning sight.
Water Features
The allure of ponds and waterfalls can be enhanced by installing underwater lighting or lighting around the edges to bring attention to it. By appropriately lighting these water features, you can transform your garden into a tranquil oasis at night. ColourPoints, TablePoints, and Festoon lights can all be placed around or near water features to provide external, atmospheric lighting.
Lightscaping – Creating Ambiance and Atmosphere
Lightscaping is the intentional use of lighting to help create a specific atmosphere or mood. When planning your lighting, it's worth considering the following lightscaping factors:
1. Colour Temperature
Adjusting the colour temperature of your lighting can create different moods and effects for your garden lighting features. Warmer colour temperatures can provide a cosy and intimate feel, whereas cooler colour temperatures can create a more crisp and vibrant ambiance. Both our ColourPoint series and our TablePoint lights can have RGBW capabilities, allowing you to vary the colour of your lighting, and you can even control the lights via bluetooth.
2. Dimming Options
Choosing lighting with dimming capabilities, that allow you to adjust the brightness levels, increases your control over the lighting and enables you to achieve your desired effect. This allows you to create a more dynamic and versatile lighting scheme. Both our ColourPoint series and our TablePoint lights have dimming capabilities via bluetooth control.
Lighting Zones
If you divide your garden into different lighting zones, you can control the ambiance in various areas separately. For example, you may wish to have brighter lighting in and around your entertainment area and softer, more subtle lighting in a seating area, on the approach to your property, or for feature lighting.
Easy Wireless Lighting Solutions
All the outdoor lighting solutions we provide are weatherproof – rated to IP65, utilise wireless battery power – eliminating the need to run cables and install mains power (although permanent, mains power installation options can be discussed if required), and are specifically designed to help create beautiful, practical, and atmospheric lighting lighting.
ColourPoint Series
The ColourPoint series of lights, the ColourPoint and ColourPoint Mini, offer versatile and wireless lighting solutions for your garden. With adjustable colour settings and dimming capabilities, these lamps allow you to create stunning lighting effects, from colour washing to artistic uplighting. The adjustable tilting head, slave/master and colour chase capabilities, and optional diffusion lenses, hanging brackets, and customised shrouds allow for even more versatility!
Festoon Lighting System
Our Festoon Lights offer a convenient and flexible solution for illuminating large outdoor areas. With an expandable design – allowing you to connect up to 50m of lights, and rechargeable batteries, you can easily customise the length and placement of your festoon lights. Perfect for creating a festive and inviting atmosphere for outdoor gatherings or a romantic and intimate vibe for seating, dining, or nook-like areas.
TablePoint Lights
Our TablePoint lights are a compact, portable, and versatile lighting fixture for feature lighting, smaller spaces, or intimate settings. The rechargeable battery allows for wireless operation, making it an excellent choice for illuminating outdoor dining tables, patio bars, or lounge areas. The RGBW colour and dimmable options enable you to create the desired atmosphere or effect, all programmable via bluetooth. With a magnetic base, you can attach them to any ferrous metal in your outdoor space, expanding your garden lighting options further. They also come with a lamp adaptor, allowing you to connect them to any bayonet or large and small Edison screw fitting, which means you can cut the mains power cable and bring your favourite lamp outdoors!
When it comes to garden lighting, careful planning and consideration of landscaping, lightscaping, and lighting options will allow you to truly express yourself and enjoy your outdoor space to the fullest.
If you'd like to get advice on the best lighting options from our product range for your garden space or want to discuss the capabilities of our lights, please do not hesitate to get in touch.
Win a ColourPoint Mini for your garden lighting worth £404.98 inc VAT!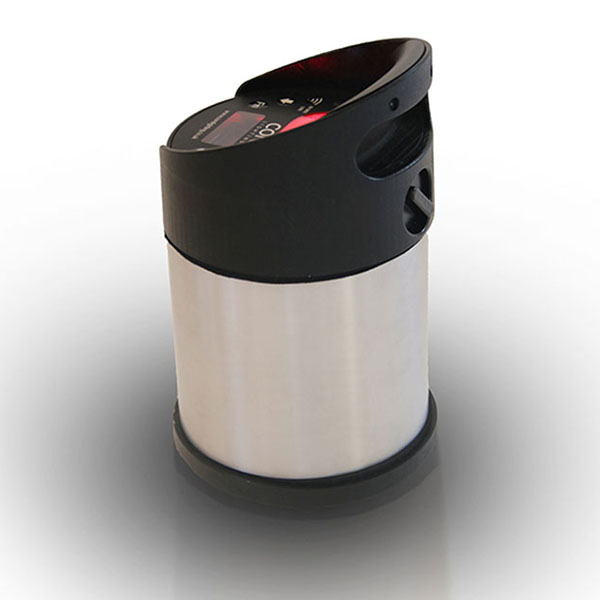 Now, here's your chance to win a ColourPoint Mini of your very own to light up the external features in your garden or outdoor spaces!
It's so easy to enter!
All you need to do is fill out the form below with your details and you'll automatically be entered into the draw to win a ColourPoint Mini!
The competition closes on 30th June 23 and a winner will be drawn at random.
What are you waiting for?
Enter here to win: